How Often do Organizations Need to Reinvent Themselves?
Innovation happens when strong leaders shine a light down a new path and enable their teams – equipped with the right tools, support, and confidence – to traverse, define, and improve it.
Half a century ago the life expectancy of a firm in the Fortune 500 was around seventy-five years.  Ten years ago this was reduced to 15 years and is even less today.
The retail and restaurant industries have been particularly hard hit with them facing the Amazon juggernaut and now the Covid-19 pandemic.  Here are some notable examples of retailers and restaurants that have filed for bankruptcy this year - Papyrus, Kroger, Earth Fare, Pier 1, Art van Furniture, Modell's Sporting Goods, True Religion, J.Crew, Stage Stores, Garden Fresh Restaurants, JCPenney, Tuesday Morning, GNC, Chuck E. Cheese, Lucky Brand Jeans, Brooks Brothers, The Paper Store, Ascena Retail, California Pizza Kitchen, Men's Wearhouse, Çentury 21, Sizzler and many more.
So the question isn't "should companies reinvent themselves?" but how do they do it?
How do companies reinvent themselves?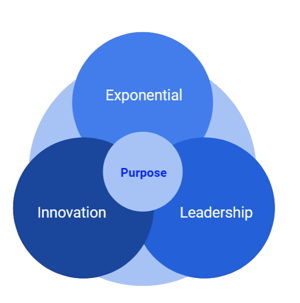 The Board of Innovation wrote an article titled "7 challenges innovation managers face in 2020" and found that the number one challenge was "Innovation initiatives with no innovation strategy".
At Idea Storm, we have looked at this challenge and this is the first in a series of blog posts working through the four pillars for your reinvention strategy.
1. Purpose
It is clear that purpose is vital for both individuals and organizations.
The Global Leadership Forecast 2018 report illustrated the impact of purpose on financial performance and found the result in the image below.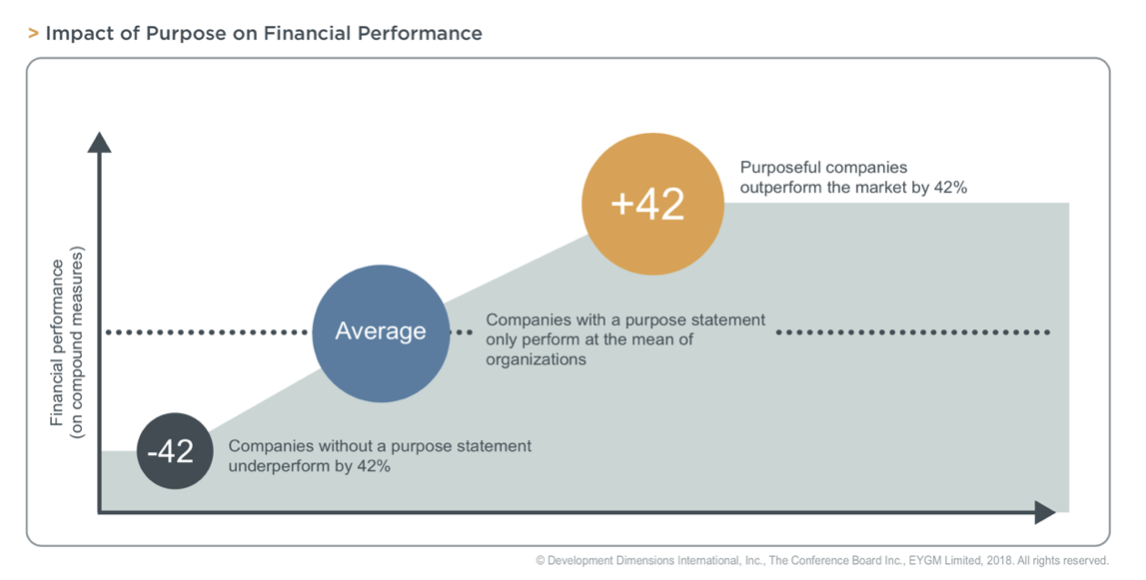 Purpose has also been shown to be vital in underpinning a reinvention strategy as well as an important driver in fostering an innovative culture within an organization.
OpenExO and Singularity University took this further and created a concept called the Massive Transformative Purpose (MTP) that tied purpose to being hugely aspirational, inspiring, and able to change the world.  When your organization's MTP is discovered then it can act as the North Star for your reinvention efforts.
Individual purpose is also vital and Oxford Leadership have created a Self-Managed Leadership program where employees can determine their purpose.  Purpose can be used to get the right people on the bus, in the right seats, and then have the drive to excel (Jim Collins - "Good to Great").
2. Exponential Innovation
The world and technology is changing so rapidly that it is not enough just to innovate but to have a roadmap that intersects with the advancements of exponential technology.
It is for this reason that at Idea Storm we have been tracking exponential technology and have a full section of our website dedicated to it - http://bit.ly/ExOTech.  In this section, you can find a full presentation and table of news stories since October 2019, monthly exponential technology summaries, industry primers, and hundreds of videos.
Peter Diamandis put together a list of 6 D's of exponential technology disruption: Digitized, Deceptive, Disrupts, Dematerialization, Demonetization, and Democratization.
The process of determining Exponential Innovation is to take a list of exponential technologies, map the 6 D's against them for your industry, and then use Moore's Law to map out where they will be in the future.  You can use this as a guide when putting together your innovation strategy.
It is said that this is the process that Elon Musk uses to drive their innovation efforts that will then intersect with the growth of exponential technologies.
3. Innovation Leadership
The definition of innovation leadership according to Wikipedia is "… a philosophy and technique that combines different leadership styles to influence employees to produce creative ideas, products, and services. The key role in the practice of innovation leadership is the innovation leader.".
Innovation, and reinvention, are difficult and require a culture of innovation to be embedded within the DNA of an organization.  It also requires the tenacity and bravery of an organization to continually believe in innovation and reinvention.
"... you're still going to get it wrong nine times out of ten.  We all know that if you swing for the fences, you're going to strike out a lot, but you're also going to hit some home runs."
- Jeff Bezos
Here are 10 innovation leadership characteristics from an article found on yscouts.com:
Risk tolerance
Domain expertise
Openness
Low anxiety
Emotional stability
Confidence
Action oriented
Collaborative enquiry
Serious play
Paying attention
4. Exponential Leadership
The term exponential leader is a new term that describes the makeup of today's leader.
These are the six areas of exponential leadership (www.exoleader.com):
Purpose: What drives me and my organization?
Mindset: How do I navigate the world?
Empathy: How do I relate to myself and others?
Flow: What state am I in?
Vitality: How do I stay at my best?
Ethics: How do I make the right decisions?
"Exponential leadership happens at the nexus of great vision and great management. It's not just about supporting your teams and giving marching orders. Exponential leaders share their vision, inspiring their people and the world around them, while empowering their talent to utilize and develop their own expertise.
Innovation happens when strong leaders shine a light down a new path and enable their teams – equipped with the right tools, support, and confidence – to traverse, define, and improve it." - What Kind of Exponential Leader Are You?
Can an organization last forever?
It is possible, but it needs to be in a constant state of reinvention.
From the 2016 Amazon letter to shareholders:
"Jeff, what does Day 2 look like?"
That's a question I just got at our most recent all-hands meeting. I've been reminding people that it's Day 1 for a couple of decades. I work in an Amazon building named Day 1, and when I moved buildings, I took the name with me. I spend time thinking about this topic.
"Day 2 is stasis. Followed by irrelevance. Followed by excruciating, painful decline. Followed by death. And that is why it is always Day 1."
---
This article was written by Lance Peppler of Ideastorm on November 02, 2020. If you would like to engage with Idea Storm then visit www.ideastorm.co.za or email lance@ideastorm.co.za.
ExO Insight Newsletter
Join the newsletter to receive the latest updates in your inbox.
---