Do You Have an MTP? Your First Step to Exponential Growth
If your company has a clear purpose then people will be attracted to this energy. You see it all the time where the leading companies in an industry attract the best people. These leading companies all have MTPs.
A lot has been happening in my life in the last month. I have recently joined an organization called OpenExO (www.openexo.com) and joined over 2,000 consultants around the world. Our mission is to assist startups to become Unicorns and to help existing organizations to transform to becoming exponential organizations.
OpenExO's founder is Salim Ismail who was also one of the founders of Singularity University and author of the book Exponential Organizations. In the book, Salim has identified 11 attributes that define an exponential organization and the key attribute is that they all have a Massive Transformative Purpose (MTP).
For today's blog I would like to discuss with you what an MTP is and how you can create one – not only for your business but also for you as an individual.
What is an MTP?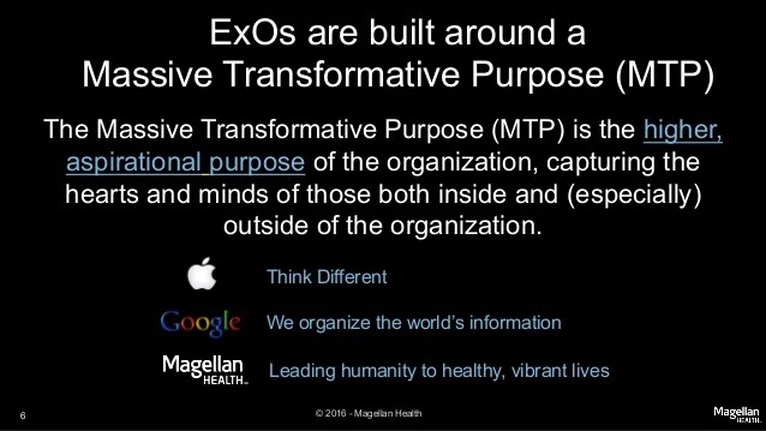 An MTP consists of three words:
Massive: Something audaciously big and aspirational.
Transformative: Can cause significant transformation to an industry, community or to the planet.
Purpose: There's a clear "why" behind the work being done. Something that unites and inspires action.
Why is it important that a company have an MTP?
Innovation and disruption
The world is changing so fast that companies need to innovate and refresh themselves to stay relevant. During this process, new products, and even entirely new business models, can be introduced to a company. An example of this is Apple where the company has regularly gone through radical transformation from selling Apple Macs, to iPods, to iPhones, to iPads and to providing services.
But how does a company innovate and still maintain its identity? The MTP is what will act as a companies North Star and will help them to innovate around their purpose.
An example of this is Singularity University who has an MTP of "Positively impact one billion people". When they look at innovation they will always be looking for new ways of enabling their MTP and to impact more people.
Attractive staff and community
Do you want to work for a company that is making a huge positive impact on the earth? I do! If your company has a clear purpose then people will be attracted to this energy. You see it all the time where the leading companies in an industry attract the best people. These leading companies all have MTPs.
You will sell more products and services
I think Harley Davidson's mission statement is close to being an MTP. Their mission statement beings with "We fulfill dreams through the experiences of motorcycling..". People very seldom buy Harley Davidson motorbikes because they are the best bikes on the market. They buy Harley Davidson because they want to be part of this dream and to be part of this community.
How does a company find its MTP?
Here are some questions that the leadership of a company can answer individually and then discuss.
What do we really care about? Why?
What is our companies' purpose on this earth?
What does the world hunger for? Why?
What would we do if we could never fail? Why?
What would we do if we received a billion dollars today? Why?
From the answers to these questions, the leadership team can put together a Massive Transformative Purpose that can be aspirational and unique.
Our individual MTPs
Just as a company needs an MTP so we all need one on a personal basis. What gets you up in the morning? What gives you energy when you think about doing?
A personal MTP can be business-related but it can also be focused around your family or your faith.
How do you create your own MTP?
Something called Ikigai, which in Japanese means life worth, can be very helpful here.
The diagram below is relatively self-explanatory but essentially it is asking yourself what you love, what the world needs, what you can be paid for and what you are good at.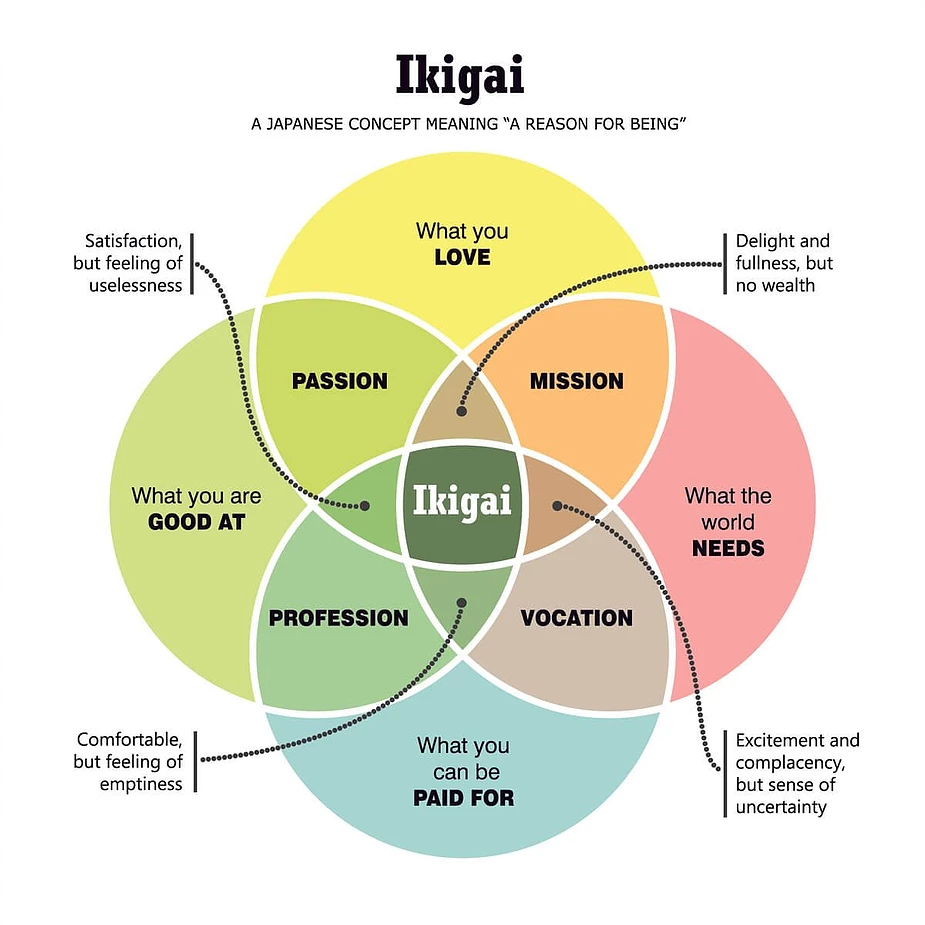 At the center of these four questions, you will find your Massive Transformative Purpose. This should be unique to you and a combination of your passion, mission, vocation and profession.
How do you assess your MTP?
So you have created your company MTP and/or your own individual MTP but how do you determine if it is any good?
A way to determine this is to imagine yourself at a cocktail party. You meet someone for the first time and they ask you the question everyone asks when first meeting. What do you do? Now imagine yourself telling the person your MTP. The determining factor is will they lean in and be interested, or will they move off to talk to someone else.
Of course, once you have held the make-believe cocktail party you can try it out in real life and see what result it has on people.
Further reading
If you would like to read more about the Massive Transformative Purpose then here are some links.
My own MTPs
Here are my current MTPs for myself and my company Idea Storm.
Idea Storm: Unlocking desirable futures
Lance Peppler: 1) Provide value to enable businesses, and people, to thrive and transform their businesses and lives. 2) Be a great husband and father
I would be very interested in hearing what your company and individual MTPs are?
If you would like to find out more about how my company Idea Storm can assist you in becoming an exponential business then please visit my website at www.ideastorm.co.za. We can schedule a 30-minute overview of the ExO attributes. On my website, you can also take a free ExO Survey that will help you to assess if your company is an exponential organization.
Hopefully this blog has provided value to you and I would like to wish you a fantastic week!
This blog represents my views and not necessarily the views of the company I work for.  
ExO Insight Newsletter
Join the newsletter to receive the latest updates in your inbox.
---