Announcing the ExO World Digital Summit

Written by OpenExO on April 06, 2020
Announcing ExO World, a three-day interactive digital summit aimed at gathering leading thinkers of our generation to discuss the current global scenario and find solutions to global challenges triggered by COVID-19.
Why ExO World
Every conference and major global gathering is being canceled. Travel is at a halt, schools are closed, our health care systems are being put to the test. Many are isolated, stuck at home, and anxious and afraid about what the future brings.
We can stay isolated, or we can come together to have a global conversation about our future. COVID-19 virus reminds us the world is connected and what happens to one, happens to all.
Let's use this opportunity to create, share, evaluate and measure toolsets and ideas for positive transformation that can be implemented at a personal, company or institutional level. Instead of halting progress, let us gather the leaders committed to the greater good, harness our emerging technologies and skill sets and our converging global cultures and capacity to positively impact each other.
Out of today's myriad challenges facing humanity, let us have the conversations and team-building needed to launch a more positive future for our children.
As Paul Romer said, "A crisis is a terrible thing to waste".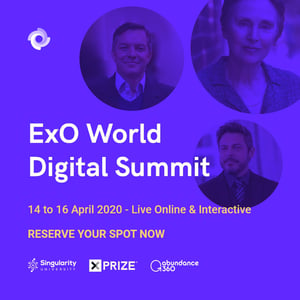 What
ExO World is a global online event with an open invitation of up to 100,000 attendees to enjoy simultaneous contribution, participation and networking.
The event will feature an entirely virtual main stage, expo booths, networking zone, individual session/panel rooms, digital entertainment, celebrity contributions, heads of state -- and as much additional innovation as we can generate in the days leading up to the event.
Sessions are about three hours each with interwoven interludes - short interviews, dialogue and Grammy award-winning musicians. After each main session, breakout sessions will host dynamic conversations in many languages and topics. A digital swag (goodie) bag will be presented to attendees
Who
Produced by the 4000 member OpenExO community in partnership with Singularity University, Vortex, HighVibe, Abundance 360, X Prize Foundation, Rokk3r Inc. and others.
This event brings together leading global thinkers, organizations, and activators.
Confirmed Speakers include: Peter Diamandis, Salim Ismail, Jason Silva, Dr. Daniel Kraft, Andrew Hessel, Julie Hanna, Maria Fernanda (President of the UN), Vicente Fox, Andres Roemer and others to be announced.
When
ExO World will happen from the 14th to 16th April and will be a mix of live central-stage presentations and panel discussions with numerous topical and localized breakout sessions and workshops taking place over a 72-hour period.
The main stage event will always begin at 7am PST/10am EST/4pm CET on each of the 3 days and go for 8 hours with breaks in between. It will be accompanied by local and topical breakouts and all will be recorded to be replayed for the Europe/Asia timezone starting at 7am CET/1pm MYT/3pm AEST while being accompanied by live moderation and live additional breakout sessions. Day 3 will be fully localized and tailored for both time zones and will happen twice with different, locally relevant content.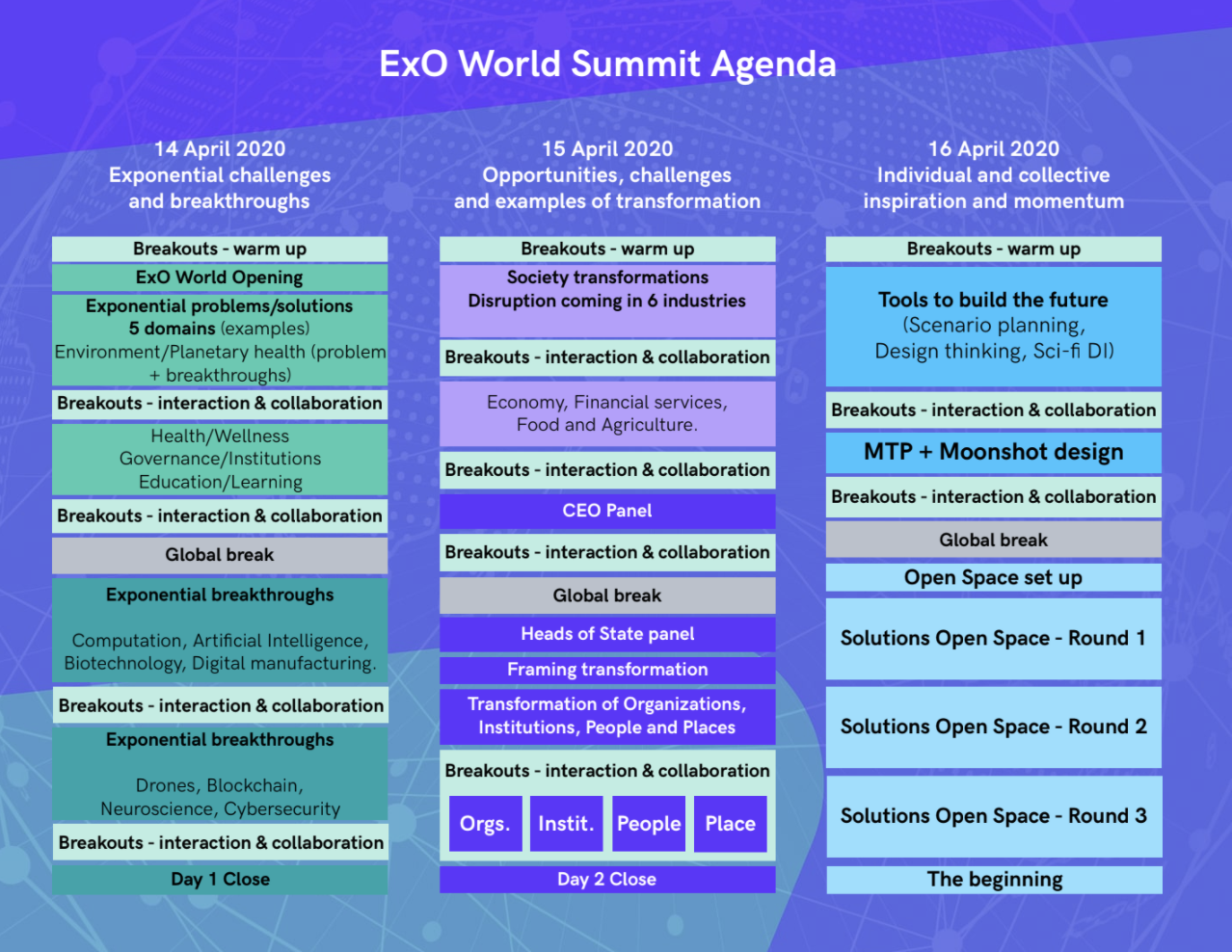 Key Messages
There are three major societal forcing functions transforming society today
COVID-19
Technological change (we have 20 Gutenberg moments arriving at the same time)
Climate change
We can see clearly that society is ill-prepared for any of these.
Many are stuck at home, so let's use that as an opportunity to explore possible solutions and futures. Let's use this moment of global stillness to create the opportunity to explore possible solutions.
COVID-19 has made many people step back in concern. We want to bring people together in hope. We believe that we can transform the world for a better future. We are using the power of technology to co-create the bright future that lies ahead of us.
People pay thousands of dollars to go to events similar to this - we're charging $297 or less per ticket, with proceeds going towards the resilience of cities around the world.
Business leaders need to be part of the solution - now!  (Brian Bacon - Oxford Leadership Institute)
Politicians and government officials can learn how others are handling some delicate issues.
"ExO World is the Bretton Woods Conference of the 21st Century. This is where the institutions to face new global challenges will be established."  NIshan Dergnarail - WEF San Francisco and former Minister, Mauritius
We want to start the conversation to transform our institutions and initiate the measurable actions which will manifest this transformation. And to do so… with you.
Press release available via PR Newswire
ExO Insight Newsletter
Join the newsletter to receive the latest updates in your inbox.
---